"El Tux" Production Update - Day 1 (Saturday)
What a fantastic first day. Crew call yesterday morning was at 6:30AM. The director was determined to be the "key master" and was first to set at 5:15AM, school keys in hand, followed shortly by his producer, first AD and production manager. Craft service showed up early to get a delicious hot breakfast ready for the crew, and by 7AM, we were in full swing.
First shot up was in the limo, and we needed the two stars of the show: Bobby and the tux. Here they are below with director Paco Farias.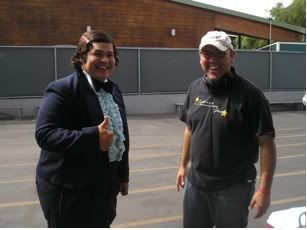 We were working with a few minors, and we had a great studio teacher, Jean Erikson, who checked everyone's work permits and made sure we were following the rules. One of our minors, Darlene Mendoza, had just had a quiceañiera of her own, so this was old hat. Here she is smiling with costume designer Ivy Thaide on the left and make-up assistant Carolina Salcedoon the right. Her "date", actor Ryan Weltzien, is standing behind her.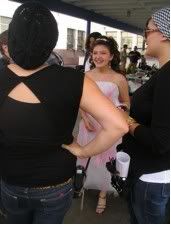 We all were excited to see a near-instant rough cut of the limo scene, courtesy of our on-set editor Jenn Garrison. Sometimes with her headphones on, she couldn't tell how loud she was laughing at the footage she was cutting. Quiet on the set!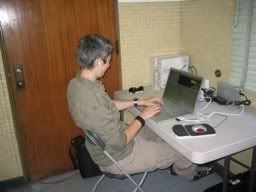 The work in the limo took the first half of the day until lunch. Here's Paco with his producer looming over his shoulder and his extraordinarily diligent script supervisor Yuko Harada by his side.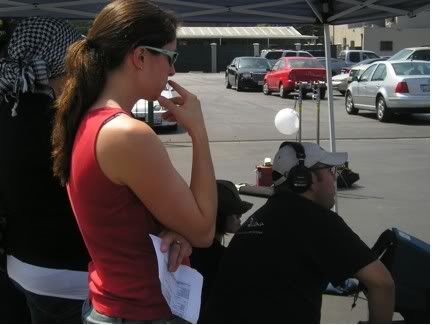 After lunch we moved indoors to shoot the middle school hallway scene. Below, co-producer and DP Clay Westervelt checks the monitor while prepping the money shot of our beautiful and talented female lead, Shelbie Bruce, storming down the hall to chew out her injured quiñcenera date.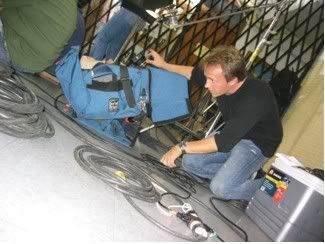 While shooting the hallway scenes, even our director was in danger of ruining takes by laughing out loud. Below, our lead, Harvey Guillen, hams for the camera between takes, as our head make-up artist Tracy Richards touches him up. Harvey's on-screen best buddy, Robby Bruce, has fun with props.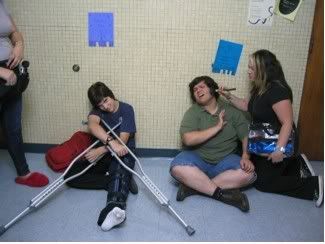 After a quick last-minute location change, handled smoothly and creatively by all, we got our "martini shot" (last shot of the day), released all actors on time, and "made" our day (got all intended shots), all because of our extremely talented DGA 1st AD Jonathan Zimmerman and his production team. Jonthan is a seasoned pro in this business and is revered by all on set.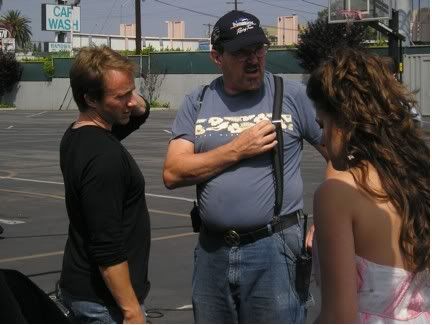 We wrapped at 6:45 pm. It was an amazing day, creatively charged by a group of true professionals. Now that we've got the payoff, it's time for the set-up. Today we're in "Bobby's" house, establishing his family relationships and getting our introduction to the tux. We have an excellent house location and we're looking forward to a great day. More tomorrow.
-Jennifer C. Stetson, Producer
Photos by Jennifer C. Stetson and Jeannie Koenigsberg
"El Tux" Production Update - Day 2 (Sunday)
The second and final day of shooting on "El Tux" was a screaming success. We got everything we needed and thanks to the tenacity and creativity of our "still man," Tracy Birdsell and the team, we got fantastic stills of the cast against an all white background. Special thanks to the producer's husband for chipping in and helping set up the backdrop. The director's spouse made it to set, too, with a little inspiration. Here's Amanda with baby Sofia who thought the mini-water bottles at craft service were the greatest.
Craft service is the place where cast and crew get drinks, snacks and other necessities. One necessity yesterday was sunscreen. We made sure to keep everyone hydrated and out of the sun as much as possible. Below PA's Richard Ruiz and Sky Gaven keep cool and "lock up" the back door (they keep everyone quiet and still during takes).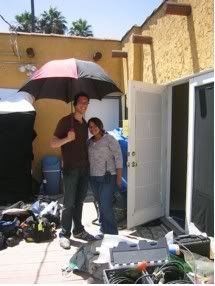 The feeling on set was collegial and very positive. Everyone wanted to chip in and make a great film. Darlene Mendoza, our "Gabby" even came back to set on a day she wasn't scheduled to shoot with her own real quinceañiera dress so she could get some photos with our "Bobby" Harvey Guillen. Meanwhile, I got a great photo of her and Shelby Bruce, our "Suzy."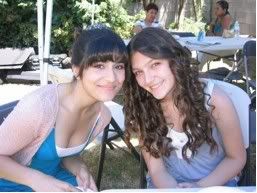 As we moved from the dining room to the front entrance of the house, the sun moved toward the East. Caught without an umbrella, production designer Rob Howeth made good use of his 5-ton truck. We were all grateful for the additional shade.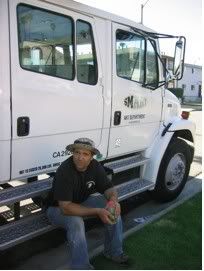 Video village (where we use monitors to view the footage as it's shot) benefited as well. Below, script supervisor Yuko Harada makes some notes on the last take.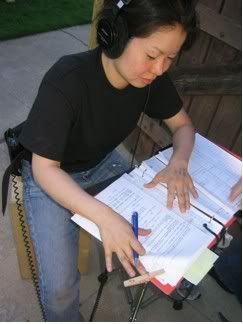 Filming the front of the house was a real treat. The neighborhood was very supportive of our film and excited to see us at work. Here Becky Gomez (our "Claudia") and Daniel Mora (our "Tomas") hang by the front fence to enjoy Harvey Guillen's hilarious facial expressions during the porch scene.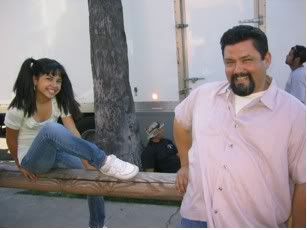 At the end of the day, I was one happy producer, and very proud to be working with a director on the verge of big success who cares deeply about both the quality of his work and the well-being of his cast and crew. I will never forget the blocking rehearsal for the first scene of the day when no fewer than 18 people were crowded around every doorway and archway near the dining room to watch and listen to Paco rehearse the scene with the actors. Once I tore my own eyes away from the scene to look around at everyone else, I realized there wasn't a single face without a big smile. To me, that characterizes the entire shoot.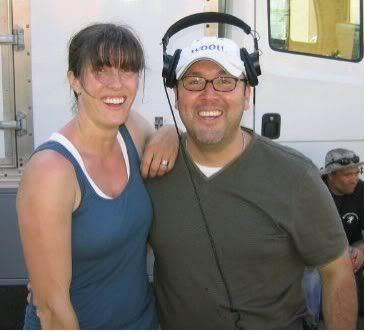 -Jennifer C. Stetson, Producer
Photos by Jennifer C. Stetson and Jonathan Zimmerman